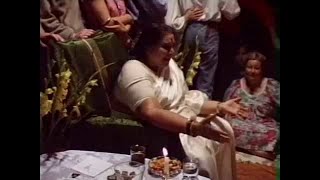 Public Program in the Koningszaal, Artis, Amsterdam, 15th July 1988
NOTE: Sri Mataji travelled by car from Belgium to Holland with the Belgian yogis who lost their way and went into Rotterdam instead of Amsterdam. When they finally arrived at the programme in Amsterdam, the local yogis had explained everything and then started giving realisation.
Just as they got to the Sahasrara chakra, Sri Mataji entered the hall.
Sri Mataji: "I think already some of you have got your realisation. […]