Day:
1993/03/25 (Thursday)

Archives:

3
Talk at Noida Temple Inauguration. Noida (India), 25 March 1993.
First thing he owned the land, and then built the whole thing with his own money. It's very, very creditable. It is something very unique: this has not happened before anywhere in the world that a Sahaja yogi has got the land and built an ashram like this, so beautifully. So give him a hand!
It's a very good beginning, and I'm sure people in every country will try to achieve this kind of relations, […]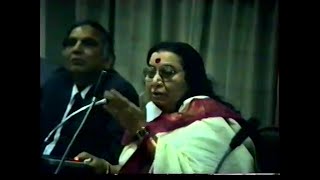 1993-0325 Medical Conference, New Delhi, India
Host announcer: I am sure friends that you must be wondering that we all doctors have been talking and the doctor of doctors who is sitting amidst us has been sitting quite listening to us, we have learned that her being here and we have taken the liberty of speaking before her.
[Talk starts here] 00:23
Here we have many doctors who are Sahaja Yogis and also abroad. The common point is that quality I have found, […]