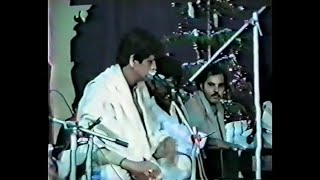 Concert before Christmas, Ganapatipule (India), 24 December 1995
[The evening before the Christmas Puja a concert is held by Arun Apte and other musicians. After Shri Mataji's arrival he starts singing but Shri Mataji stops him as Mr. Punjab – maybe some personality or authority – would like to offer Her a garland: "Mister Punjab…".
Then the concert begins.
During the concert Shri Mataji comments: "Wah".
At a certain point Shri Mataji interrupts the performance of the Marathi song "Gheyi Chand Makarand" which is being performed to explain its meaning]
[1.05.03] This song is describing a seeker like the beetle which is seeking the honey in the lotus. […]