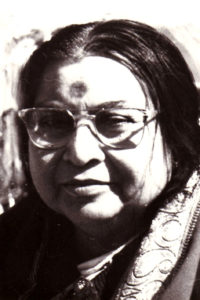 This book is humbly dedicated to
our Divine Mother, Her Holiness Shri Mataji Nirmala Devi
that Your name may be ever more glorified, praised and worshipped
Thank You, Shri Mataji, for allowing us to collect these beautiful recollections of Your care. Thank You for the warmth and simplicity and all the many ways in which You showered Your love upon us. And thank You for the great play of Shri Mahamaya that helps seekers to love and trust You, often without yet understanding the Truth that You are.
The heart of this book is to remind us of the magic of Sahaja Yoga. The spirit of this book is to help our brothers and sisters all over the world, and also in the future, to know a small part of the beauty and glory of You, Shri Mataji as a loving, caring Mother whose wonderful power of divine love dispels all our uncertainties.
Sift now through the words that we found when we tried to remember. What follows is our collective memory, our story together. We ask Your forgiveness if our memories are less than perfect, but our desire is to share with others the love that You have given us, as best we can.
Acknowledgements
The editor would like to humbly thank all the people who have made this book possible. First and foremost we bow to Her Holiness Shri Mataji, who is the source and fulfilment of all, and who graciously encouraged the collection of these stories.
Eternally Inspiring Recollections Of Our Divine Mother – Volume 1: Early Days To 1980
Eternally Inspiring Recollections Of Our Divine Mother – Volume 2: 1981 – 1983
Eternally Inspiring Recollections Of Our Divine Mother – Volume 3: 1984 – 1986
Eternally Inspiring Recollections Of Our Divine Mother – Volume 4: 1987 – 1989
Eternally Inspiring Recollections Of Our Divine Mother – Volume 5: 1990 – 1992
Eternally Inspiring Recollections Of Our Divine Mother – Volume 6: 1993 – 1997
Eternally Inspiring Recollections Of Our Divine Mother – Volume 7: 1998 – 2011