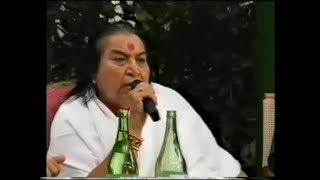 Interview / Public Program at the "Caffè della Versiliana". Versilia (Italy), 31 August 2001.
Romano Battaglia: Bene, cominciamo allora, la Grande Madre comincerà a parlare e spiegare come si può giungere alla realizzazione del Sé. Prego. [Well, let's start then, the Great Mother will start talking and explaining how to get Self Realization. Please.]
Shri Mataji [to Romano Battaglia]: It's very kind of you to have invited Me to this meeting.
He has asked Me to explain to you how you can reach to the state of self-realisation. […]