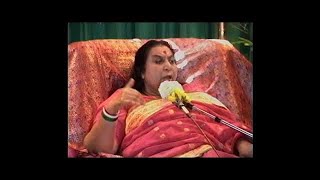 Shri Kundalini Gauri Puja. Melbourne (Australia), 16 February 1992.
Come inside, you can, all of you can come inside, there is space. Every body, do space for these people, just move. This side.Don't sit in the sun.
[Shri Mataji is speaking in Hindi.]
I'm sorry today I have to speak about something unpleasant to begin with, before the Puja. Later on we'll have the Puja of the Kundalini, the Gauri. All right?
The unpleasant things are – […]