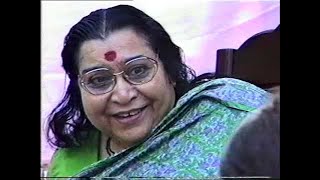 Talk to Sahaja Yogis, 5th August 1992, Ashram in Niittykumpu, Espoo, Finland
Sahaja
Yogi: Now, I should study French.
Shri
Mataji: Now you talk like kids.
[Shri Mataji laughs]
Hello,
everyone!
Locating
your presents, was the problem. Locating,
locating we found.
Sahaja
Yogi: Yes
Shri
Mataji: Sorry for late.
We are searching for your
presents.
Go
ahead [Shri Mataji says that to the Yogi].
Beautiful place they
have.
…And
he was telling Me that the [sauree? inaudible] language is very near
Sanskrit. […]