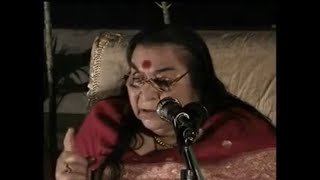 Gudi Padwa Puja, Palam Vihar, Gurgaon (India), 13 April 2002.
The festival of Gudi Padwa that we are celebrating today,is also celebrated in other parts of India, even in the South. Everywhere this festival is celebrated. The 'Samvat' calendar year that was started (By King Vikramaditya) and the calendar year started by Shalivahanas, both start on the same day. That day is today. All over the country this day (New Year) is celebrated. All the important dates in the year are fixed on that basis especially the festivals. […]
Holi Celebrations, Palam Vihar, Gurgaon, Delhi, India, 29 March 2002.
(translated from hindi)
Holi was started during the time of Shri Krishna. Before Him in the time of Shri Rama …. He was very austere. Because of that the society became very peaceful but people were devoid of all joy. So He thought that there should be a way by which people should be able to laugh freely and be joyful. And like it happens to all such ventures it happened in the case of Holi also that it produced an opposite effect. […]