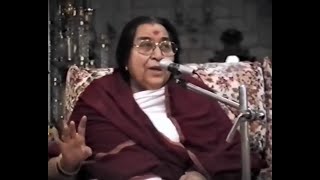 [English translation from Hindi]
Anniversary of Guru Nanak Birthday, Noida House (India), November 1999.
Today is the birthday of Guru Nanaka. It is being celebrated through-out the world with so much of zeal that I have not seen in India. For the first time it has been advertised in so many papers and by different means.Guru Nanaka always talked of Sahaja Yoga. Everything else, He said, is just showing off. About religion He said that observing fasts, […]
Shri Rama Navami Puja, Noida House (India), 5 April 1998.
As compared to Maharashtra, Navaratri of Chaitra month of Shalivahana Shaka (dinasty) from Pratipada to Navami is celebrated with more grandeur in North India. In Maharashtra the birth of Shri Krishna (Shri Vitthala, i. e. Shri Krishna as a King) is celebrated with religious fervour as 'Gokulashtami' Shri Vitthala was the eighth incarnation of Lord Vishnu. He incarnated (was born) at 12:00 midnight. Shri Rama, the seventh incarnation of Lord Vishnu, […]