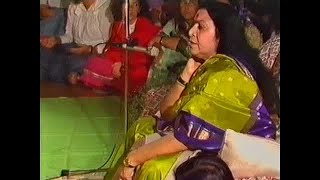 1984-07-14 Evening Program, Leysin, Switzerland.
The basis of Kathak dance and Indian music
Today, we had a very nice session of puja in the morning. And to celebrate that session in an artistic way, we have arranged this beautiful program of Kathak dancing for you. Now, Kathak word, as you know, comes from the word 'Katha', Katha means the story. It means the story.
[Shri Mataji says something in Hindi, and man bows to her feet]
May God bless you [followed by namaskar]
And the story is to be told. […]