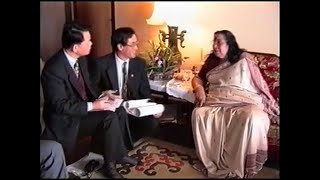 Shri Mataji, Press Interview 07-03-1995
Shri Mataji: Comercial Bank.
Interviewer: Yeah.
Shri Mataji: Alright.
Interviewer: Shri Mataji, how many times you have been to Taiwan?
Shri Mataji: Before I just came on my way to America once, and then I think six times more.Long time back when it was not at all developed, in 63.
Interviewer: What International people Shri Mataji has met?
Shri Mataji:(Laughing)My goodness, it's too much. I have met all of them because of my husband's job. […]