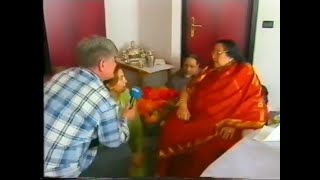 Shri Mataji, Star TV Interview, Turkey, Shashidhar, 01-04-1999
Yogini [pointing to the bouquet offered to Shri Mataji]: They are from the garden Mother. Collected for You.
Shri Mataji: What's the name of the flower?
Interviewer: I don't know.
Shri Mataji: All right. Thank you very much. Please be seated.
Yogini [interviewer's questions/comments are being translated by a yogini in the video]: He feels different here. The atmosphere feels mystic… He feels very relaxed and comfortable.
Shri Mataji: Very good. […]