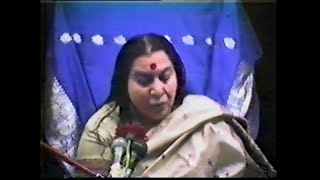 Talk to yogis. Ashram in New Jersey (USA), 26 October 1985.
[All right. So. It's rather warm. All right, as you please. Where do I keep this beautiful flower?
(Indistinct conversation) What flowers, eh? (Yogi: "Yes") Beautiful! Now. If you can get My handkerchief from My purse, would be good. And My spectacles]
Today I was thinking of talking, telling you about the Sahaja Culture.
Now we are formed in dharma, Vishwa Dharma. But it must have a culture. […]