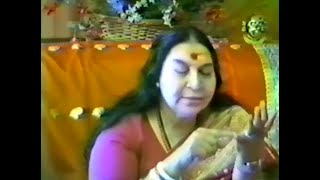 Ekadasha Rudra Puja. New York City (USA), 17 September 1983.
[FROM THE VIDEO]
So today is a day, according to Indian calendar, called as 'Parivartani Ekadashi'.
Now, today is the eleventh day of the moon. Eleventh day is 'ekadashi'. Also, in Sahaja Yoga, you know about Ekadasha Rudra, which is here (forehead); which will ultimately destroy all those things which are not required anymore. That is Ekadasha here, that's the eleventh.
But today is a special day where we are going to use the power of Ekadasha to do the 'parivartan' means 'the transformation'. […]