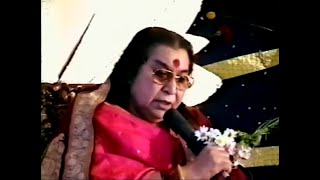 Shri Virata And Viratangana Puja, 10.10 1993 YMCA Camp Whittle, Fawnskin (USA)
Dzisiaj
będziemy celebrowali Puję Virata i Viratangana. Ameryka Północna
i Ameryka Południowa są, jak wiecie, centrum Vishuddhi Shri
Krishny. I bardzo ważne jest to, aby również wiedzieć, że cała
komunikacja, wszystkie relacje z całym Stworzeniem, muszą zostać
ustanowione poprzez to centrum Vishuddhi.
Vishuddhi,
jak wiecie, jest najważniejszym ośrodkiem w waszym wzroście, w
pewien sposób. Ponieważ Sahaja Yoga jest nie tylko przeznaczona dla
waszego wzrastania, […]