Our inner secret garden
Shri Mataji was planning Her tour in Europe. It was in February 1982 and we were gathered around Her one evening in the London ashram in Chelsham Road. Several yogis from Switzerland were there, too. Apart from weekly lectures in London, Shri Mataji was only lecturing in Paris and Geneva once a year in those years. Austria had just started, as well as Italy.
In October 1981, She had given Her first programme in Rome. I was too shy and impressed by Her to take the liberty to talk to Her. While planning that evening in the ashram, Shri Mataji was asking for yogis to help organize programmes in Birmingham, Bristol, Brighton and also to Paris and Geneva. Sitting at the back of the room, I was waiting for Italy's turn to come. A young Swiss woman suggested to go to Rome, as Ruth needed help.
'Rome needs no help. Ruth will manage very well on her own,' Shri Mataji said. I was quite disappointed by this answer, but I consoled myself thinking I should get over my attachment towards Italy, because I had lived there for some time. Yet, a few days later, the yogi in charge of London told me Ruth had phoned him asking me and Adriana Orifici to come and help. We were rather embarrassed, for Shri Mataji had given different orders.
However, Ruth had insisted for us to come. The wisest solution seemed to be to tell Shri Mataji about Ruth's request and ask Her opinion, but we were too shy to talk to Her. So far, I had always communicated with Her through Her abstract form and I had never been near Her chatting like several other yogis. The date of our departure to Rome was close now. Needless to say we were very worried to go against Shri Mataji's decision, but what to do?
Two days before our departure, Shri Mataji came to Chelsham Road ashram to perform the Shri Rama Puja. The meditation room was packed with yogis from all over England. One chance was then left to us to tell Shri Mataji about our arrangement, but Adriana and I discovered bitterly we would never have the courage to do so. That evening, Shri Mataji told us about the story of Shri Sita and Rama. Then, suddenly in the middle of Her talk, She changed the subject.
'So, who is going to Rome then?' Adriana and I looked at each other, taken aback, with eyes wide open, blushing violently. We raised slowly our hands. Shri Mataji was looking straight in front of Her and could not see us, as we were seated on the right side of the room, near the wall. As soon as our hands were fully raised Shri Mataji turned Her head in our direction without any hesitation whatsoever, and our fiery cheeks suddenly faced Her dazzling smile, full of light. An infinite benevolence was coming straight on us, penetrating each cell of our being with full motherly sweetness. Her face was like the moon at midnight, enlightening the Earth plunged in darkness. Carrying on pouring the rays of Her marvellous smile right at the bottom of our hearts, Shri Mataji bowed gently to us, by which we could perceive the sign of Her deepest respect towards us. It was like a kind of reverence to the most beautiful, noblest and purest part of our being, which probably was our Spirit. She was bowing to us, as if we were queens.
This was too much for us simple girls, used to walking unknown amongst men and women every day, all of them unable to identify within us the sparks of our inner secret garden. But here tonight, someone could see them shining and, better still, reproducing them to the infinite until we felt light, light and suddenly drowned in an unspeakable bliss.
'Good, very good,' She said, still smiling. 'Ruth has got a very nice flat. You will see. You will feel very well there.' She went back to Her talk where She had left it. The dream had come true. She had spoken to me for the first time in Her physical form.
Guillemette Metouri
Blake's picture of the deities
When Shri Mataji saw the picture She said, 'That's just how it is,' according to Graham Pottinger, who was with Her at the time. The location of the deities was given by Derek Ferguson who also heard it from Shri Mataji.
1.Shri Hanuman. 2. Shri Bhairava. 3. Shri Garuda. 4. Jesus Christ. 5. Adi Kundalini. 6. Shri Garuda.
Around 1982 some Sahaja Yogis in London showed the above painting to Shri Mataji.
'That's just how it is,' Shri Mataji exclaimed. On that occasion Shri Mataji also pointed out the location of Shri Garuda, Shri Hanuman, Shri Bhairava, and Jesus Christ in this picture.
Luis and Carol Garrido, Derek Ferguson and Graham Pottinger
Just fly like birds
Although memory fades, many of the details, like viewing a landscape from a great distance, I remember sitting on the floor of the front room of Shri Mataji's house in Brompton Square in central London. It was the day before our departure from England to a new life back home in Canada in the company of my new wife.
In those days — it was the spring of 1982 — it was common to visit Shri Mataji. The relative handful of yogis who lived in London at the time often worked in Her house, plastering, painting gold leaf, working out their problems. On this day we sipped tea in Her company.
'Fly like birds,' She said. 'Go back to Canada and be dynamic. Enjoy.'
These words remain in my memory. Most of the rest have faded. But the feeling remains, the inspiration and the direction She gave us.
'I haven't given you anything,' She said, as the end of our visit neared.
The words immediately echoed in my head, followed by a list — my marriage, my realisation, a new life, hope, optimism, faith, meaning and two months in India. 'What does She mean She hasn't given me anything?'
Shri Mataji reached out to one of the few objects within reach. She grasped a glass vase from the end table. She offered us a rectangular glass vase as a combination wedding and bon voyage gift. It was graced by the image of an Austrian-looking couple waltzing. I remember too some objects on the coffee table between us — a spoon, a pen, perhaps a sugar bowl or paperweight.
'See how the vibrations change?' She said. She moved the objects around on the tabletop. The new arrangement was more pleasing. She was giving me a lesson in composition, in vibrations, in balance.
'What time is your flight tomorrow? How will you get there?' She told us how long it would take to travel by car from Wandsworth to Heathrow at that time of day.
'Don't worry about your flight,' She told us repeatedly, knowing that we were worrying about our flight. 'Everything will be all right. Just fly like birds.'
Richard Payment
Our wedding gift
We were recently married in Sahaja Yoga, and Shri Mataji called my husband and me to Her house in Brompton Square just before leaving to go to Vancouver in Canada. It was a very personal special visit. We were invited graciously into the beautiful living room with its royal maroon wall paper. We sat across from Shri Mataji, separated by a small wooden coffee table. We perched respectfully on a divan.
She began by asking us small details of when we were leaving and then spoke about the Prime Minster of Canada at that time. She revealed that She had met him and his wife and that She had anonymously sent them a statue of a deity, I think it was Shri Shiva, as a blessing. She told us that the Prime Minister was a good man with a strong sense of integrity.
'You must write to him,' She said. 'Tell him to stay on as Prime Minister. Tell him about Sahaja Yoga. You must contact these people, these politicians.'
She sent for tea to be served to us. There we were feeling as if in a dream drinking cups of tea with the Goddess in Her drawing room. It all seemed a bit unreal.
'I must give you something, for your marriage,' She then said. 'I have not given you anything yet,' and She leaned forward and picked up a beautiful crystal glass vase. Engraved into the glass on the front was a young couple dancing twirling with lightness and joy. 'Here, you must take this.'
Of course we protested. In truth She had given us so much already spiritually as well as materially including a necklace at the wedding ceremony in Delhi.
'You must fly like birds now,' She said. 'Forget the past.' It was an amazing testament to Her love and care and faith in all of us.
How She nurtured us all!
Felicity Payment
They feel the vibrations
When Brompton Square was well on the way to being habitable, in 1982, one night some of us slept there with Shri Mataji. I had slept a night in Her flat at Ashley Gardens, and on both occasions noticed the same thing. Outside both houses were gardens – the private gardens so often found behind London houses and also the shared gardens, in the case of Brompton Square a garden in the middle of the long narrow square.
Often if one wakes early in London in the summer, before the traffic noise drowns out everything else, one can hear the birds singing. However, in all my years in London – over ten in all – I only heard the birds singing all through the night on the two occasions I was staying in a house where Shri Mataji was sleeping. I asked Her about it and She said that they feel the vibrations. Shri Mataji often told us to meditate in the early morning just before the sun gets up, because the vibrations are good then, and of course this is just the moment the birds start to sing.
Linda Williams
Rubber plants
When I moved from a flat to an ashram in the 1980's, I had many rubber type plants, which all ended up in Shri Mataji's house in Brompton Square. She enjoyed them very much.
John Watkinson
I am at the Feet of God
Shri Mataji taught us how to be and how to love these memories which are threaded through each one of us eternally. In 1982, when Mother was giving weekly programmes in London She allowed the Sahaja Yogis to help in Her house with various activities, that were an obvious ploy to be worked on by Her divine vibrations. In those days I would often run straight from school or my childhood activities to 'help' in the house acquiring along the way a variety of previously unknown skills. One day we had all finished our work and Mother gathered the yogis around to listen to some bhajans She was explaining and translating.
'These are not actually for you people,' She said, 'this longing, this crying – because you have seen the face of God, you have found it.'
I was so engrossed I had not noticed the passing of time and had not left at my usual time to catch my train home across London. Suddenly Mother broke off from Her teachings.
'You had better stay the night. Go and phone your mum from My room and tell her,' She said.
In my naivety I thought that I was there unnoticed and yet She cared for every detail down to the kindness of letting my mum know I was safe. Shri Mataji then retired upstairs to watch some television and have Her dinner, taking me by Her side. I sat at Her Feet watching them (not the television!) caressing them with my eyes. 'I am at the Feet of God,' I marvelled. I prayed that I could absorb Her vibrations and not disturb Her with my petty human troubles.
At this point Mother asked me to explain the plot of a particularly complicated murder mystery, insisting I sit by Her side on the sofa (I refused numerous times till it was disrespectful to disobey). She then fed me delicious morsels from Her own plate. Baffled by the convoluted plot unfolding on screen, I remember Her concurring that the protagonist had behaved that way because he had not known love as a child.
When it was time to retire I accompanied Her down to outside Her bedroom door, bowing at Her Feet and thanking Her for Her kindness. I was planning to go and sleep in the dining room with my shawl for a blanket.
'Wait here,' She said, as I got up from my namaskar.
Shri Mataji returned with toothbrush, toothpaste and one of Her petticoats to sleep in, telling me that after I had changed and used the bathroom I should come to Her room, and once there She showed me which side of the bed I was to have and how to turn off the lights. So I passed the night next to the Adi Shakti, as She slept by my side, as I had dreamed of in my own little childhood bed – that God was by my side in my room, I came to be by Her side. I looked out into the blackness of Her bedroom, imagining the deities all around, chaitanya swirling around like millions of galaxies. I don't think I slept or moved yet was so fresh when She awoke and asked for tea.
'Wait,' She said, after I got out of bed. 'Do you like saris?' She'd asked full of humour, hardly waiting an answer opening Her wardrobe and pulling out a simple white one with an orange and gold zari border. Laughing all the while, rapidly wrapping it three and a half times around my skinny teen frame before I knew what was happening. I remember the feeling of being wrapped up in one of Shri Mataji's saris by Her own loving hands – both physically and metaphorically wrapped up in Her love! Also Her explaining how the sari represented the Kundalini and telling a thrilled me that She'd worn it during realisation tours in Maharashtra. It was on that day too that She gave me a pair of Her golden chappals: 'To worship,' She'd clarified (just in case I was in any doubt).
My shyness melted and I no longer felt afraid in Her presence, She was my Mother and She loved me.
Danya Martoglio
It became obvious who the true doer really was
One day I came to Brompton Square quite early in the morning. Shri Mataji was just coming downstairs. She looked quite tired and was commenting on the limitations of the human body, calling it a 'sticky thing'. I began to worry thinking that I had come at the wrong time.
The minute Shri Mataji reached the ground floor the change which took place was difficult to describe. Suddenly Mother became like a young girl and Her Feet were hardly touching the ground, Her movements were so swift that I found it difficult to keep up while we walked around the house. It seemed that there was such a connection with Mother' that my chores felt more like spontaneous fulfillment of H Her wishes, it became quite obvious who the true doer really was.
'You have done quite a lot today,' Shri Mataji commented with a smile.
Grazyna Anslow
Shri Mataji answered my thoughts
We all went through various mayas in those days. To begin with, I couldn't accept that people could be negative. Shri Mataji explained to me that a particular person was very negative. I couldn't really accept it and that person was affecting me quite badly on the vibrations. I was working at the front of the house and was burning off the old paint. It got to the point when you come round to the right way of thinking and I thought, 'Shri Mataji, She knows everything and She must be right. If this person is affecting me badly, I mustn't have anything to do with that person.'
'Shri Mataji wants to see you,' someone came up to me and said, immediately after I had been thinking that. So I went over into Her bedroom.
'What were you thinking just now?' She said. I explained that I had come round to accepting what She had said to me.
'You are so much better,' She said.
She knew exactly what you were thinking. Later on, while I was working for Her at Cabella, in certain situations, Shri Mataji would answer everything I was thinking. For example, it took five and a half years to get my wife over from India after we had married and I remember thinking, 'What am I to do?'
'Your wife will come within a few months.' Shri Mataji said at that moment. These thoughts would pop into my head and Shri Mataji would answer them, as if I was speaking out loud.
John Watkinson
Just to enjoy
I once had the honour to go to Shri Mataji's house in London and at one point in the afternoon I was standing on the roof garden and gazing at a beautiful magnolia in the neighbour's garden. I wondered how long it had been there and how much money it must have cost.
That evening, Shri Mataji addressed a public programme in London and, during it, Shri Mataji mentioned how important it was just to enjoy, that it was silly that some people would look at a flower and waste their time thinking how long had it been there and how much it cost.
Bernard Rackham
You go and see him
It's spring of 1982 and I've come up to London from Bristol to see a well-known musician, in concert at the Hammersmith Odeon. On the way, I call in at Shri Mataji's house in Brompton Square. She had said that we should visit if we happened to be in London, and although I felt rather awkward about just dropping in like this, my wife has urged me to go. Shri Mataji is at home and we talk a little. Then it emerges that, this very night, She's giving a public programme in Hampstead. Of course, I don't want to miss it – but then I don't want to miss the concert either. Thinking aloud, I say, 'Oh, I was going to see a musician tonight…'
One could argue that a more intelligent man would have abandoned at once any thought of attending the concert, yet by no word or hint or glance does Shri Mataji make me feel this.
'No, you go and see him,' She says. But what is really striking is when She adds that he's an old man, he hasn't got much longer to live, and that I should try to give him his yoga.
This was true: he was comparatively old and didn't have that much longer to live – and yet I hadn't even mentioned his name, let alone his age. Without any effort, spontaneously, Shri Mataji just knew these things.
Chris Greaves
Every house in the universe
I remember being told at the time – in 1982 – that when someone asked Shri Mataji if She had built many houses like this, i.e. like 48 Brompton Square, which She was remaking from the inside out.
'Every house in the universe,' She replied without a pause.
Chris Greaves
Shri Mataji's wit was very quick
At 48, Brompton Square there was an area outside the house that everyone referred to as the well.
'Where's Fergy?' Shri Mataji asked me one day.
'He's in the well,' I said.
'Who put him in? Shri Mataji replied.
'Pardon Mother?' I said.
'Little Tommy Finn!' Shri Mataji said. Shri Mataji's wit was very quick, so quick that often at first we would not understand the joke.
John Watkinson
Editor's note: this is the beginning of a well-known nursery rhyme:
Ding, dong, bell, pussy's in the well,
Who put her in? Little Tommy Finn.
Pujas at Chelsham Road
When the meditation room at the back of Chelsham Road was finished we had many pujas there with Shri Mataji being physically present, until it became too small to fit everyone in. The men would get ready for the pujas, and usually I was busy upstairs in the kitchen, because we would serve a meal afterwards. We would first offer the meal to Shri Mataji, then we would all have a plate, and She would let us have the remains of Her food as prasad.
In those days the pujas were different. We didn't know many bhajans, and there were more mantras. She would have just one or two people to do the puja. One time I was upstairs cooking and Shri Mataji came a bit earlier than expected. I wasn't ready but couldn't leave the half made meal.
'Mother wants you to do the puja today,' someone came up and said, so I had to rush down, and did do the puja – painting Mother's Holy Feet and everything. It was the Shri Rama Puja in April 1982 and I had a great need of help on the Right Heart chakra, the place of Shri Rama. Shri Mataji's compassion was so great, She allowed the person who so needed help to do the puja, not the best qualified or most worthy.
She also had us all take a turn to wash Her hands at various different pujas.
Linda Williams
Shri Mataji was very encouraging
Many years ago, when all of us Sahaja Yogis in London were blessed to often be in the presence of Shri Mataji and could ask Her advice on many subjects, in the spring of 1982 I expressed a desire to write a novel which would help spread Sahaja Yoga. With a lot of help from many Sahaja brothers and sisters, the book was published, under the title The Keys of Wisdom. In the early eighties, when I started it, Shri Mataji gave me some advice which might be helpful to others.
When Shri Mataji saw the first draft She said the characters based on the deities were too obvious and should be veiled or toned down, or it would not be auspicious. Humans must be very careful when writing about the deities, She explained.
It was difficult to find names for the young people who are the heroes of the fantasy novel. She said one should use simple names in a book like this, and the name Lee would be a good one, so that name is from Her.
I said that the story started in a terrible country ruled by black magicians who called themselves high priests like I had heard ancient Atlantis was. I asked Her if Atlantis really existed.
'Yes,' Shri Mataji replied, 'it was like Nazi Germany but worse.'
There was another story She told which I adapted for the book. It went like this: when Shri Mataji's parents were in jail for their part in the freedom struggle, She would sometimes be sent to Gandhi's ashram. She told us that a number of young people were sent there and one was a young Maharaja. He had never shared a room with anyone and at the ashram the boys all slept together in a big hall. Mahatma Gandhi apologized when he asked for his own room, explaining there were none available, but said he could sleep outside in the yard. The other children knew what would happen but did not let on. In the night some snakes came to drink and the young Maharaja heard them coming. He was only too happy to share a room after that
When Shri Mataji first saw the draft, She was very encouraging. Later, in 2006, some days after the Navaratri Puja in Los Angeles, Shri Mataji graciously blessed a copy by putting Her holy hand on it. She said the children of the world should read it.
Linda Williams
Diary extract, 5th April 1982
On the 21st March I took a plane to London in order to participate in the celebration of Shri Mataji's birthday which also coincides with the spring equinox and Mother's Day in England. A splendid puja took place at the ashram of Chelsham Road: Shri Mataji was covered with flowers; She was like the embodiment of Spring!
A great joy overwhelmed me when She entered the meditation room. There were a lot of yoginis who came to present their new born babies to Her and She would give them names. I was designated to give the present for Switzerland: a beautiful lamp for Her new house. I was at Her Feet.
'Why don't you come and visit My house?' She said, when I said I was flying back the following Monday.
I was so happy. So I visited Her house, entirely restored by Sahaja Yogis and we had tea. Shri Mataji talked to me about Geneva and also about the people who had had their realisation and to whom we had sent a letter but they did not come back. Upon my return to Geneva one of them – now a dear friend of mine – called me and asked me if I had thought of her throughout the whole weekend! This is a way Mother's attention worked.
Antoinette Wells
An anniversary gift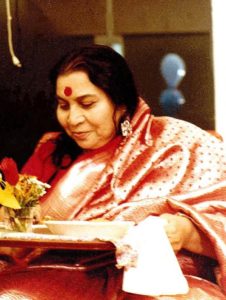 This photograph, above, was taken during Shri Mataji and Sir CP's wedding anniversary on the 7th of April, 1982, at Nightingale Lane. Sir CP bought Shri Mataji the sari which he presented to Her and to everyone's delight, Shri Mataji changed into it for all to see.
John Watkinson
Our daily life was completely integrated
This was in spring 1982, April, in Rome. I was a yogini of not even one year and Shri Mataji said She would come to Rome to give programmes again, and this time She would stay in my flat. She decided She would have three or four programmes and would come for six days. I had no experience of Shri Mataji staying in my home and I had never been on the front line to take care of Her, Her meals and Her well-being.
So Guillemette Metouri, who spoke Italian perfectly, came to Rome to help. There was also an English Sahaja Yogi and a little group of Italian yogis, who had got their realisation when Shri Mataji had come the previous November, so they were less than six months old in Sahaja Yoga. Maybe there were one or two Swiss yogis. Guillemette had no experience of being close to Mother and looking after Her either. She was in charge of the kitchen, and we would cook the same for Shri Mataji as for ourselves. Guillemette was also translating Shri Mataji and doing the introduction of the four programmes, and I had to oversee the whole.
Mother would sit at the table in the dining room, take Her meals with us. We would all be sitting and eating on the floor around Her. Mother would talk to us and Guillemette would translate, after having cooked for all of us, with some help. There was one bathroom for Mother and us, and about ten or fifteen yogis were sleeping in my flat. We would get ready in the morning and then clean up the bathroom, and while Shri Mataji was in the bathroom, we would quickly clean up Her bedroom, so it would be clean when She would come back. Needless to say, we were using the same kitchen for Shri Mataji and us, and the same tableware. I did not even have special sheets for Her. It must have been very hard for Her to take in all those vibrations of a new yogini.
I would go shopping with Shri Mataji, while Guillemette would stay and cook with a little team. Shri Mataji would stop in an ice cream parlour and we would have an ice cream with Her, and accompany Her here or there. She was rebuilding the house at Brompton Square, London, and She would look for things for Brompton Square, such as marble and wood for frames.
One morning, a Sahaja Yogi played the piano for Mother. This piano was not in the lounge where Shri Mataji would stay with us, but in the working room where we slept and where we would iron the towels and napkins for Shri Mataji.
Shri Mataji said She wanted to listen to him playing and came into this room, so we arranged a little cushion under Her Feet and She sat there. While She was sitting there, Guillemette was ironing, a Sahaja Yogi was playing the piano and I was folding what Guillemette had ironed. It was just such a feeling of family life of the children with their Mother and our daily life was completely integrated with Shri Mataji.
Ruth Eleanore
A simple beautiful puja
I asked Shri Mataji if She wanted to have a puja in Rome in Spring 1982 and told Her I had bought a sari in India for Her, just in case She wanted to have puja. Shri Mataji said She had not planned for a puja, but if we had a sari for Her, then, yes, why not have a puja in the morning, just before She would go to the airport. We had nothing at all for puja, so we rushed into a shop and bought a big round plastic salad bowl and that was supposed to be the thali.
She asked me if I could read the hundred and eight names.
'Yes, of course, Shri Mataji,' I told Her, but then I read them completely wrong because, instead of saying a mantra, I would just say, 'Shri Maharajni, Shri Gambhira' and so on, however, She did not make any remarks. We read these names and you can imagine with nobody really having any experience for doing puja, it was really lacking in protocol. Shri Mataji told us what to do, but we had no experience. It was a very short and simple, but a beautiful puja and reading these names, their meaning in English and maybe in Italian. It was so extraordinary to read these names in front of Shri Mataji, a marvellous experience, beside or despite all the mistakes, which we were not aware of.
  Ruth Eleanore
Do you know who gave Me My hair?
Shri Mataji came to Rome for a series of programmes in the spring of 1982 and I was in Her bedroom. She was getting ready to go shopping or to go to the programme.
'So, do you know who gave Me My hair?' She asked me.
'Yes, Shri Mataji, Shri Yama.'
'And do you know who gave Me My nose?'
'Yes, Shri Mataji, Shri Kubera.'
'Very well,' She said. Then She went on talking about other things.
I understood afterwards that Shri Mataji was checking if I was ready to take care of a group of Sahaja Yogis and to teach them a certain number of things.
Ruth Eleanore
This vision
In Rome, Shri Mataji was chatting and She explained to us that when She was sleeping, She was guarding the thirteen other universes. Because there are fourteen universes — ours is one — and She had to go, while She was sleeping, to check what was happening in the other ones. She also said — but I suppose that this is well known — that when She combs Her hair during a puja, She is putting order in the universe.
Once we were talking about the present, the future and the past and how it worked, how Shri Mataji could know everything about the future and the past. She explained that it is like the planet, which is round. If you take a distance from the Earth, you see many sides of the planet at the same time. She explained that for the past and the future, it was the same. If She took a distance, then She could have this vision of the past and the future.
Ruth Eleanore
A lesson for other times
When Shri Mataji was in Rome I paid for some things for Her and She said She would reimburse me. When I saw Her next, in Paris, She had the money to give back to me, in pounds. She handed me back this money.
'Shri Mataji, if You need it, You can keep it. You can give me back later,' I insisted.
'Ruth, don't be complicated,' She told me.
'Yes, Shri Mataji' I said. I took the money and that served me as a lesson for other times.
Ruth Eleanore
Walking in the streets of Rome
In 1982 Shri Mataji went to Rome to hold some public meetings, and I decided I would jump on a train and travel from London to help. It so happened that I was the only English person to go and I was very blessed and honoured to be invited to stay in the very same flat as Shri Mataji, and on several occasions we went shopping for marble and pictures etc.
On one occasion whilst walking through the cobbled streets of Rome Shri Mataji's steps became very laboured, as though She was dragging a heavy weight. We wondered what could be the cause of this obvious discomfort to our Holy Mother. She explained that there were hundreds of souls hanging onto Her legs begging for redemption.
She also told us that it is for this same reason that we the Sahaja Yogis feel heavy at the end of the day. When we go out in our daily lives many souls who are unable to take a birth (they are stuck in a sort of limbo) see that we are realised souls. They know we have our connection with the Goddess and that we will be able to transport them to Shri Mataji. She explained that they are not bad and mean us no harm. When we sit and have our footsoak in the evening these tormented souls pass though the flame to Shri Mataji, and are then able to take another birth, thus being given another chance to get their self realisation.
Alan Henderson
I know you
In 1982 one of my sisters, who was living in Rome, got cancer and was supposed to die, so she went to Bolivia just to say good-bye to her family, but before that, she was walking in Rome's streets trying to cope with the news and she saw a poster with Shri Mataji's picture. She found the Mother that she was looking for to comfort her in those difficult moments and went to Her programme and got her realisation. When my sister went to our country of Bolivia, she gave my father, my cousin and I our realisation, and she also got cured of her cancer.
In 1985 my father was involved in a car accident and he couldn't hear and his sight started to deteriorate. The doctor said that he needed laser rays, but in Bolivia that was not available so my brother who was living in Milan, Italy, took him there. When my father was in my brother's house Shri Mataji went to Milan and they and all the Sahaja Yogis went to receive Her. They formed two lines and my brother was a leader of Sahaj in Milan at that time, so as he was behind Shri Mataji he couldn't introduce my father. However, the moment that Shri Mataji got near my father and he offered his flower, Shri Mataji pointed with Her finger to him.
'I know you,' She said, and my father was so overcome by emotion that he started crying.
'Shri Mataji, he is my father,' my brother said.
Shri Mataji told him that my father was a saint. From there my father was invited to follow Shri Mataji in Her tour around Europe and he started to learn about Sahaja Yoga and started meditating, and later returned to Bolivia to start Sahaja Yoga there.
Sylvia Vega
We are meeting again
I am called Christine and I have always felt a great connection to Christ. When we arrived in Paris in May 1982, we went to the ashram. Shri Mataji was supposed to be staying at another flat, but suddenly, when we arrived, we saw a lot of shoes outside and knew Shri Mataji was there. So we went in and the leader at the time introduced me to Shri Mataji.
'We are meeting again after two thousand years,' She said, and took me and gave me a hug.
Christine Haage
We felt we had not done anything
In 1982, we were five ladies from Mulhouse, a province of France. We went to Paris to see Shri Mataji and I was the only one to have seen Her before. At the public programme, we did not know how to work on people, so we just stood at the back and watched Shri Mataji, so happy to see our Mother.
'We are not helping,' we said, and were sad that we could not help Shri Mataji like the Paris Sahaja Yogis, who were all working on new people. We just enjoyed Her presence. Afterwards, when She had finished the programme, She came out and stopped in front of us.
'Thank you so much. You have no idea how much you helped Me this evening,' She said. Then She left. We didn't understand what She meant because we felt we had not done anything.
Christina Sweet
17th May 1982 (diary extract)
It is now more than ten days since the Sahasrara Puja took place in Paris: I had taken the children with me and there we stayed at the house of a lovely young yogini called Natalie. The house had been given to her by her father and it was used as an ashram.  There were around a hundred Sahaja Yogis staying there, sleeping in the garden or in the house on the floor. My cousin Brigitte, myself and our children were given a little room right at the top of the house, and we felt very cosy all wrapped up in our sleeping bags.  The next day, it was the 5th of May and we prepared a flower garland, it was the third garland that my little team of sisters and myself were privileged to make this year.
Shri Mataji arrived and started to talk and it was very beautiful when She described how She had opened the seventh chakra of humanity, such nobility as well as modesty was emanating from Her. Towards the end of the puja we just crowned Her with beautiful flowers. Another crown had been prepared but it felt right to do it this way.  Shri Mataji granted the assembly with a beaming smile and the children were in the first row.
After the puja we all went into the garden for a havan and everybody felt totally cleansed and happy. In the evening Shri Mataji sat on the floor with a harmonium and started to sing and teach us the bhajan Jai Jagadamba. It was very touching, tender and soothing, and we were all surrounding Her and felt very relaxed. Shri Mataji then spoke sweetly to my little children and then called me in Her room to talk about Geneva.
'I give you My protection,' She said at the end.
I took Her hand and put it on my forehead and felt totally thoughtless. I also told Her that I had written a letter to Her and we had felt Her attention and protection strongly on Geneva; She replied that She never received the letter: so we laughed!
Antoinette Wells
How are you, My child?
I went to a public programme in Brighton Pavilion in May 1982 and I was a bit sceptical to begin with, but as soon as Shri Mataji came into the room I felt a very powerful presence. It was a kind of recognition, and when She spoke it seemed that every point She made was hitting the nail on the head. I didn't feel much when first given realisation, but then some yogis came and worked on me and I felt a strong cool breeze, but I was sure they were blowing on my head and was still a bit sceptical. Meanwhile Shri Mataji was going round the hall, personally working on the new people.
'Do you think She might come over here?' I said to the yogis who were working on me, but they said probably not as I had already felt the cool breeze. So I sat and meditated, and then a little later Shri Mataji came and walked past me and just stroked my cheek.
'How are you, My child?' She said, as if She knew I really wanted Her to come to me, because the room was full of people.
I stayed right to the end and there was an older Arab man who was sitting there, and he couldn't feel anything after everyone had worked on him. Shri Mataji came up and was standing in front of him so majestically. She seemed very big and tall, and he was on the chair with some yogis around him. She put Her finger on his Agnya and turned it. He still couldn't feel it and She started stamping Her Foot on the floor. It felt like the whole place was vibrating and again She put Her finger on his Agnya and turned it, and again She stamped Her Foot. She raised Her hand, and suddenly you could see his face, and yes! He could feel it.
'Ha!' She said as She raised Her hand up, 'Now you feel it.' It was amazing to see his recognition, and so powerful the way Shri Mataji was stamping on the floor. To see that on somebody else helped me realise what was happening. Shri Mataji has mentioned that the bija mantra for the raising of the Kundalini is 'Ha!' Which is why She said it and raised up Her hand up the Kundalini when working on people.
Maggie Keet
A small flock of seagulls
After a public programme in Brighton, Sahaja Yogis gathered outside the venue to see Shri Mataji off in Her car. I had not managed to present Her with the flowers I had brought. She had just finished speaking with some yogis and was just about to drive off, when one of the yogis called out to Shri Mataji and Her car door opened enabling my flowers to be presented.
As Shri Mataji's car pulled away everyone's attention was drawn above the car to a small flock of seagulls. There were about seven gulls flying clockwise and forming a perfect circle and their white feathers seemed to catch the streetlights giving them a dove-like appearance. They followed the car along the road and even kept formation as the car turned the corner.
Sean Kelly
Editor's note: In the Christian tradition, a white dove represents the Holy Spirit, who is Shri Mataji.
The fragrance was incredible
Once going to a meeting in Brighton, I was just approaching it and Shri Mataji was obviously there because the fragrance was incredible.
Another time, Mother had a rose and She smelt it and said that all of us should be able to smell the rose with Her.
Pamela Bromley
I can remember standing in Pam Bromley's house in Brighton, and feeling so many of Shri Mataji's vibrations there. When She came She just filled it with Her vibrations.
Felicity Payment