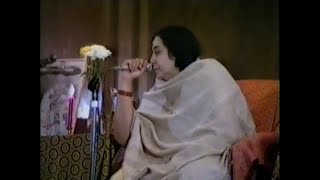 Public Program. Porchester Hall, London (UK), 13 June 1983.
Shri Mataji: Is it for the loudspeaker? Yes.
We can wait for some time more to organize. It is so unfortunate that it was not published in the newspaper properly, that day – it's very unfortunate.
Yogi: Excuse me Mother, I think to get this microphone a little closer to you.
Shri Mataji: Eh?
Yogi: Do You want to get this a little closer to You?
Shri Mataji: [The microphone] I'll have it in My hand. […]