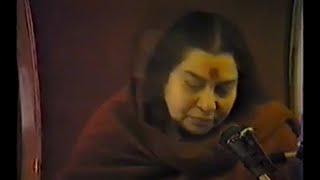 1983-02-10, Questions and Answers About America
Shri Mataji- did you hear me, nothing to learn from the Indians on the gross, and nothing to learn from the west, both are in the same melting pot. One is developed and one is developing
Yogi- on the spiritual level??
Shri Mataji- what do you think about Indians spiritual level is zero
Yogi-well the aspirations, what is still preserved in this country
Shri Mataji- you see if I have to talk to Americans, […]
Public Program, New Delhi (India), 5 February 1981.
Today I am going to speak in general, about Sahaja yoga and Kundalini awakening. Sahaja as you know means SAHA means with and JA – born with you, but perhaps people do not realize what Sahaja actually means. It is spontaneous, but what is spontaneous. Spontaneous is not that supposing I am going in the car suddenly I meet somebody I say spontaneously I met that person Spontaneous means that happening is a living happening. […]