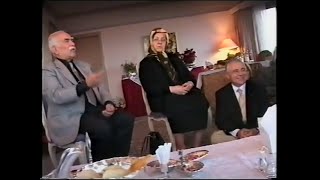 Talk at Swiss Hotel. Istanbul (Turkey), 23 April 2001
SHRI MATAJI: So, the religion should be inside. That's Sufizm. "Sufi" word comes from "saf" [clean].
Yogi: Mother, Mr. Emin is teaching at the Marmara University and teaching the interpretations of Holy Quran.
SHRI MATAJI: Good.
Yogi: Yes.
SHRI MATAJI: But, you see, Quran also is very much recent.
Sufi : There is a verse in the Quran. It says that if the people were abstain of Allah's prohibitions and namely, […]